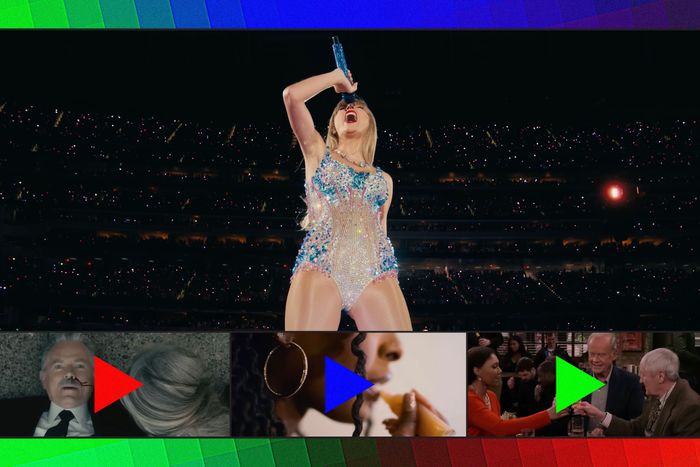 Clockwise from top:
Taylor Swift: The Eras Tour
,
Frasier
, Love Is Blind, The Fall of the House of Usher.
Photo: Vulture Illustration
It may be Friday the 13th, but the biggest fright so far has been Taylor Swift scaring a handful of film distributors to move their films from this weekend, clearing a path for The Eras Tour movie. So movie theaters may be light on new films this weekend, but there's still a number of shows and movies to stream after Eras Tour. Horror master Mike Flanagan's latest gruesome series, a Love Is Blind reunion (not live this time), the return of a Cheers favorite, and Pete Davidson have packed the weekend. So, 1, 2, 3, let's watch, bitch. —Savannah Salazar
Featured Presentations
.

Taylor Swift: The Eras Tour
Miss Americana is ruling the theatrical screens this weekend, so if you didn't get a chance to hit the Eras tour, or you just need to see Taylor in the highest definition this time around, now is the time. AMC's theaters are only showing the Eras Tour film from Thursday to Sunday, so this is the very definition of a weekend watch. Pack up your friendship bracelets and get going. —S.S. 
➽ Joe Jonas probably won't be going to the box office for this one.
.

The Fall of the House of Usher
Mike Flanagan's shows are as much a Halloween tradition as trick-or-treating. This spooky season, the writer-director modernizes Edgar Allan Poe's famous short story for the post-COVID, opioid-afflicted era with ensemble regulars (Carla Gugino, Henry Thomas, Kate Siegel) and some newcomers (Mark Hamill, Mary McDonnell) in the cast. —Jen Chaney 
.

Frasier
The reboot featuring Kelsey Grammer's titular psychiatrist tries to fill the holes left by Niles, Daphne, and Frasier's father (originally played by the late John Mahoney). New characters include Frasier's grown son, Freddy (Jack Cutmore-Scott); nephew David, an awkward anal-retentive designed to be a Niles surrogate; and colleagues (Nicholas Lyndhurst and Toks Olagundoye) at Harvard, where Frasier might get a teaching job. —J.C. 
➽ It's messed up that he's wearing jeans, though.
.

Anatomy of a Fall
Justine Triet's thriller, winner of this year's Palme d'Or, is about an author, played by Sandra Hüller, who's on trial for the murder of her husband, who died by falling off their house. Hüller, who's getting awards buzz for The Zone of Interest, is so very good as a woman who finds the state of her marriage being prosecuted because the evidence itself is inconclusive. —Alison Willmore
.

The Burial
Inspired by a true story covered in The New Yorker, The Burial recounts the trial between funeral-home owner Jeremiah O'Keefe (Tommy Lee Jones) — represented by "The Giant Killer" Willie E. Gary, played here by Jamie Foxx — and the Loewen Group. It makes for a fun underdog story in this legal drama with a charismatic bromance at its center thanks to Foxx and Jones. —S.S. 
.

Lessons in Chemistry 
This Brie Larson–led show set in the 1960s looks, feels, and sounds like (and is!) an adaptation of one of those books you've definitely seen on a Hudson Booksellers endcap while running to gate A27. Larson plays a chemist who battles misogyny in order to achieve her goals. Some of the lessons learned, astonishingly, are less about chemistry and more about life. —Kathryn VanArendonk 
.

Saturday Night Live Returns
Saturday Night Lives! The long-running comedy show returns on for the start of its 49th season this weekend. Pete Davidson hosts with rapper Ice Spice as the musical guest. And, in case you're worried — nobody is scabbing. The Writers' Strike is over, and although the actors are still fighting for fair compensation, SNL's actors are covered under a different contract, so they have SAG approval to be funny on TV. —J.G.
Animation Station
Rick and Morty season seven
Rick and Morty are back for a seventh season of multiversal mayhem, and in this universe, they just sound a little bit different, okay? The premiere marks the first appearance of the titular characters since Justin Roiland, who co-created the series and voiced both of them, got booted from the show following misconduct allegations. —James Grebey
Spooky Season
John Carpenter's Suburban Screams
The horror, sci-fi, and action genres owe a great debt to filmmaker-composer John Carpenter. He dips his toe into true-crime territory with this unscripted anthology series that's somewhere between Unsolved Mysteries and Dateline; reenactments, interviews, and historical news coverage explain "true tales of terror" that occurred in seemingly average communities. —Roxana Hadadi
➽ These days, Carpenter mostly just wants to play video games and smoke weed (king shit, he deserves it), so Suburban Screams must be good if he put down the controller to make it. 
Goosebumps
Edgar Allan Who? The actual GOAT horror author, R. L. Stine, is getting another TV show this week, too — this time starring Justin Long. Slappy the Dummy is among the many supernatural horrors that five teens unwittingly unleash, and the ten-episode series will see them attempt to put a stop to the slightly comedic terrors. The first five episodes drop on Friday the 13th before switching to a weekly release schedule. —J.G.
Reality Bites
House of Villains 
Prepare to shiver at this list of names: Tiffany Pollard, Omarosa, Jax Taylor, Johnny Bananas, Spencer Pratt. E! compiles reality TV's "most iconic and infamous supervillains under one roof" to compete in silly games, drink too much, compare criminal histories for clout, and hang out in the genre-mandated pool. The winner gets $200,000, and Joel McHale (host of The Soup for 11 years) oversees this house of horrors. —R.H.
Grand Finale
Love Is Blind season-five finale and reunion
Not to go full Bachelor on y'all, but this season of Love Is Blind has been its most dramatic season yet. From insta-stalking accusations, a man in the year 2023 talking down on a woman for wearing makeup, to only two couples barely making it down the aisle, Houston's season has been an interesting experience, to say the least. This weekend, we'll get to see if Hot People Stacy and Izzy, along with Milton and Lydia, say "I do." You don't even have to wait much longer for the reunion, either, as it'll air on Sunday to put a bow on all this season's chaos. —S.S.
Double Feature
The Fall of the House of Usher (1960)
The new Netflix series is not the first time the House of Usher has fallen. The Edgar Allan Poe story was one of several of the author's works that Roger Corman adapted into a movie in the 1960s. Though Corman is celebrated as a master of low-budget moviemaking, his The Fall of the House of Usher and other Poe takes like The Masque of the Red Death don't look cheap, and are instead gorgeously vibrant and haunting. And, apologies to the talented cast of the Netflix show, but none of them are Vincent Price. —J.G.
➽ If you need even more Poe, we rounded up the best adaptations, including the actual best: that "Treehouse of Horror" where they do The Raven.
Want more? Read our recommendations from the weekend of October 6.