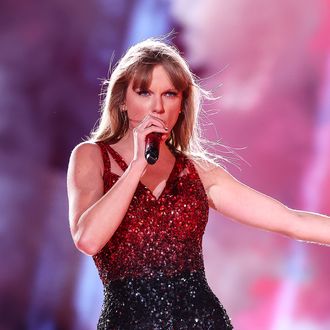 Photo: Hector Vivas/TAS23/Getty Images for TAS Rights Management
Baby, let the (box office) games begin. According to a "very rough estimate" from Deadline, Taylor Swift's Eras Tour concert film opened to under $5 million at the box office through surprise early screenings on Thursday. By Sunday, the film had become the highest-grossing domestic concert film ever, per CNBC. The film sailed past $95 million, glowing orbs for "willow" in hand. The next highest-grossing music doc in America, Justin Beiber's Never Say Never, made $73 million during its whole theatrical run. Swift's concert film may surpass Joker for the best October opening ever, which would be some delicious girl math.
Swifties have been proving since presales opened that they are more than ready for it. Forbes has predicted that the movie could open to as much as $150 million globally. Variety reported in September that the film had secured a single-day ticket sale record for AMC Theatres, earning $26 million. Spider-Man: No Way Home previously held the distributor's record with $16.9 million. And that's not even counting the other theater circuits that will screen the music documentary —  according to Deadline, once you factor in presales from Regal and Cinemark, Taylor Swift | The Eras Tour actually made $37 million in its first 24 hours. That means that Swifties who survived the Great War have taken over Star Wars territory, at least in the sense that The Force Awakens's first-day presale record of $20 million has been been left in the cosmic dust. We get the feeling that there won't be a lot of blank space in the audiences of the Eras Tour concert film. There's a reason, after all, that its opening weekend competition was swiftly exorcised.
This post has been updated.