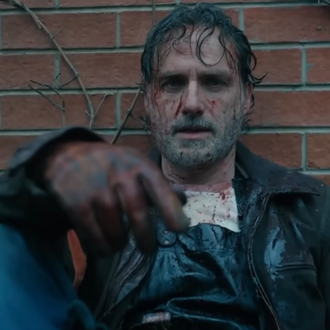 Thanks to the ongoing SAG-AFTRA strike, the big-name actors at New York Comic Con 2023 can't plug their shows. David Tennant talked about the Scottish play rather than his reprisal of the Tenth Doctor coming out later this year. Ewan McGregor discussed the perfect cup of tea. "The best way to make a cup of tea is in a teapot," he said instead of talking about Obi-Wan Kenobi. "[Boil water] less than three minutes, you got a good color but not a good taste. More than three minutes, you get both." But the editors guild isn't on strike, so we still got plenty of trailers! Attendees got the first look at a new The Walking Dead spinoff, a new Dragon Ball anime, and kaiju! Kaiju! Kaiju! Here are all the trailers released during New York Comic Con 2023.
Scott Pilgrim Takes Off
Original Scott Pilgrim scribe Bryan Lee O'Malley joins Are You Afraid of the Dark's BenDavid Grabinski in this anime adaptation of everyone's favorite Canadian high-school dater. The voice cast is made up of the folks from the 2010 film, because they love the material (and each other) that much. The show comes to Netflix November 17.
Dragon Ball: Daima
Dragon Ball is getting a midquel! Going back to the days of OG Dragon Ball, Dragon Ball: Daima is filling in some of the story gaps before Z. The teaser for Dragon Ball: Daima shows us de-aged Goku, Vegeta, Bulma, and more. Drawn by creator Akira Toriyama, it will be a story "never told in Dragon Ball."
The Walking Dead: The Ones Who Live
"I tried to get away," Rick Grimes says in the teaser for The Walking Dead: The Ones Who Live. "Please know, I tried." Is that Rick talking, or is that his actor Andrew Lincoln talking about trying to get out of this undead franchise once and for all? Lincoln and Danai Gurira's Michonne return to zombie duty February 2024.
Monarch: Legacy of Monsters
Monarch: Legacy of Monsters got a full trailer at NYCC, showing us how Godzilla fits into this story of Russells young and old. Father-son duo Kurt and Wyatt Russell play the same army guy at different ages in this show, about a shadowy organization monitoring the MonsterVerse. Monarch: Legacy of Monsters comes to Apple TV+ November 17.
The Strangers: Chapter 1
Madelaine Petsch may have closed the book on Riverdale, but she's still getting entangled in some spooky shit. The teaser clip for The Strangers: Chapter 1 features Petsch getting menaced by the titular strangers of this new trilogy. Director Renny Harlin (Die Hard 2, Cliffhanger, Deep Blue Sea) is helming a new trilogy based on the 2008 film starring Liv Tyler.