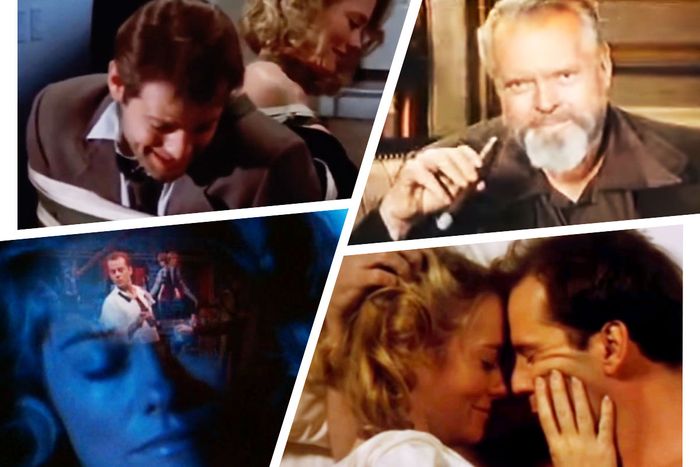 Four phases of
Moonlighting
.
Photo-Illustration: Vulture
Almost four decades after it premiered, Moonlighting is finally available to stream, through Hulu. Held up in licensing purgatory for years by complicated music rights issues, one of the best shows of its era has come home for both people looking for a strong shot of nostalgia and those who have never seen it before. A game changer on Tuesday nights on ABC, Moonlighting was a generation ahead of its time, blurring the line between comedy and drama, while solving a few mysteries and launching one of the greatest TV couples of all time.
Created by Glenn Gordon Caron, Moonlighting premiered in March 1985, reigniting Cybill Shepherd's career and launching one for Bruce Willis. Before Die Hard, Willis landed the role of David Addison, the head of the Blue Moon Detective Agency, owned by a former model named Maddie Hayes (Shepherd). When she discovers her lifetime of earnings have been embezzled, Maddie is forced to try to make something of Blue Moon, leading to running cases with David while avoiding their obvious sexual chemistry for nearly three seasons.
The writing on Moonlighting broke the boundaries of '80s television, using the show's critical and commercial success to take major risks with form and concept. It blended the mystery-of-the-week formula so popular in the '80s with something closer to the comedy style of Howard Hawks. It was one of the first primetime shows to really defy genre, alternating from screwball antics to romantic melodrama to clever mysteries, and it anchored all of these creative risks to two of the best performances of their era. By the end of the show's run, Willis was a megastar and the production had derailed in too many ways to keep it on the air, but the fingerprints of Moonlighting are all over modern television. Here are the episodes that best illustrate its legacy.
"Pilot" (Season 1, Episode 1)
It's far from a great episode — pilots rarely are — but it's essential to see where it all began and how quickly Moonlighting rose from this relatively shaky foundation. One of the problems with the premiere is that it's the length of two episodes, which leads to a sluggish pace — ironic for a show that would evolve into one of the quickest hours on TV. David and Maddie's repartee doesn't work at half-speed, but it's interesting to see the instant chemistry between Shepherd and Willis, along with how distinctly they defined these roles right from beginning. Willis has that star-making charm right from his TV debut, and Shepherd looks like she's having a blast riffing on her own background. There's not much to remember about the plot here — Maddie decides to save Blue Moon to keep herself afloat — but the characters make an instant impact.
"The Next Murder You Hear" (Season 1, Episode 4)
Moonlighting improves almost instantly after the pilot, and this is the episode where it really comes together. For the first time, it delivers a clever mystery that not only sets up a standard structure the show will return to constantly (the fake death) but also reveals depth of character in our two lonely leads. Shepherd adds some nice melancholy to Maddie as they investigate the on-air death of an overnight DJ who may have been sleeping with one of his married listeners. When it's revealed that the DJ faked his death, Maddie's emotional response makes clear that Moonlighting isn't going to be an ordinary crime-solving show as the cases often say more about the people solving them than those who committed the crimes themselves. That may feel expected in the post–Peak TV era, but it was a big deal in the '80s.
"The Lady in the Iron Mask" (Season 2, Episode 2)
The Hawks energy really comes through in this madcap caper about a disfigured woman who hires Blue Moon to find the man who threw acid on her face because she's still in love with him. Or does she? When a masked woman hires Blue Moon, Maddie is startled that a woman would still want to be with the man who destroyed her life out of some misguided passion. Of course, things aren't what they seem, and the guy that David and Maddie find ends up dead, leading to a madcap climax in which a number of characters wear the same outfit. It's a wonderfully silly episode with all-in performances by Willis and Shepherd, who had already found a perfect rhythm as comic partners this early into the show's run.
"The Dream Sequence Always Rings Twice" (Season 2, Episode 4)
This is the first time that Moonlighting really went off the rails in terms of audience expectations, but not the last. Can you imagine tuning in for a typical mystery of the week and seeing black-and-white dueling dream sequences introduced by Orson Welles? (The legendary director died shortly after filming, and the episode is dedicated to him.) When Maddie and David dream about their latest case, they do so in black and white, a noir about a romance at a '40s nightclub that leads to murder. The most Emmy-nominated episode in the show's history, it also marks the first time that David and Maddie kiss, even if it was in their dream form. It's perfect in every way, including how the two dreams reveal character traits of these relatively new household names, with Maddie's version centering on a deceived woman and David's focusing on a manipulated man.
"Every Daughter's Father Is a Virgin" (Season 2, Episode 14)
By this point in the trajectory of Moonlighting, the production was struggling to keep up with the restrictions of basically writing a feature film's worth of fast-paced dialogue every week, leading to delayed episodes and filler material. The writers often had to pad episodes to meet run time after Willis and Shepherd sped through their dialogue like Hepburn and Grant, which made for some creative prologues and epilogues, such as answering viewer mail in this episode's cold open. What's great, though, is how that quirky open gives way to an episode that feels like it's going to get goofy or have an unexpected twist but actually gets more dramatic and character-centric, as Maddie learns the truth about her deeply flawed father. Whoever cast the legendary Eva Marie Saint as Maddie's mom deserved a raise.
"Camille" (Season 2, Episode 18)
A season finale that almost feels like a backdoor pilot to a show that never happened, "Camille" is named after a con woman played by Whoopi Goldberg, after The Color Purple but before her run of hit '80s comedies like Jumpin' Jack Flash and Burglar. When she lucks into saving a politician's life, she ends up hired by Blue Moon, even as she's hunted by a corrupt cop, played by Brat Pack legend Judd Nelson. It's crazy how much Willis and Shepherd take a back seat in this goofy episode that includes arguably the best finale in the show's history, as the crew tears down the set during the big climax. The bad guy is literally thwarted by a prop guy collecting his gun. As if that's not awesome enough, the final scene features David and Maddie parting ways with something unspoken in the air — "It'll keep till the fall." It almost works as a legit cliffhanger.
"Big Man on Mulberry Street" (Season 3, Episode 6)
When a friend of David's dies, the fact that he used to be married comes to light and shocks Maddie into realizing how little she knows about a man whom she is clearly falling in love with. With a focus on David's past and how it makes Maddie think about their potential future, this is an unusual episode based on its plotting alone, but the producers take that a step further with a dream sequence from Maddie that imagines a dancing David to a full song by Billy Joel. As if that's not memorable enough, the dance number was directed by the legendary Stanley Donen, who helmed a little movie called Singin' in the Rain.
"Atomic Shakespeare" (Season 3, Episode 7)
This one is just brilliant, allowing the show's incredibly smart writing staff to go nuts with a fantasy episode that merges screwball comedy and the world of William Shakespeare. "Atomic Shakespeare" places the will-they-won't-they dynamic of David Addison and Maddie Hayes into the narrative structure of the Bard's Taming of the Shrew, throwing in a few other Shakespeare references along the way and even a musical number to "Good Lovin'" by the Young Rascals. At this point in the show's history, it felt like one of the most boundlessly creative programs ever, a show that could do anything each week and nail it with confidence and wit.
"I Am Curious … Maddie" (Season 3, Episode 14)
Here's where things started to fall apart. Many TV historians like to argue that getting David and Maddie together, which happens at the end of this episode, was the beginning of the end for Moonlighting, using it as an example as to why writers need to keep their protagonists from hooking up. The truth about Moonlighting is far more complicated than just that decision. One of the problems is that the episode that finally did the deed is kind of lackluster. The writing isn't very good here, and neither is Mark Harmon as the man who almost got in the way, but it's essential because it's the episode that finally ended on a freeze-frame of David and Maddie in bed together. The show would never be the same.
"Come Back Little Shiksa" (Season 4, Episode 2)
Again, it's not that David and Maddie hooked up that sent Moonlighting spinning, it's that the writers were then forced to separate them for most of the fourth season while Willis shot Die Hard in Los Angeles and Shepherd stayed with her growing family in New York. The show worked because of their chemistry, and the fourth season is a mess because they're separated. This is the best of that rocky season for two reasons. One, a great guest turn from John Goodman as a man with a secret who hires David to find a missing woman. Two, a memorable Claymation bit in which David talks to a stop-motion Maddie about their separation. It's both a reminder of the show's boundless creativity and that Shepherd and Willis couldn't share a set at this point in the show's run without some special effects.
"When Girls Collide" (Season 5, Episode 11*)
This one is so '80s, starting with a slow-motion vision of Demi Moore set to Roxy Music's "Avalon" — now a reminder of a time when Bruce and Demi were one of the hottest couples in the world. But Moore just gets a cameo compared to the great Virginia Madsen, who plays Maddie's cousin Annie, who starts up a fling with David despite the fact that she's married. Full of clever lines and referential bits (in one montage, a Die Hard poster is torn down behind David and Annie), it's almost a template for how Moonlighting could have righted itself and survived the ratings plunge of season five, if the stars didn't reportedly hate each other by this point. (*This episode technically aired 10th in the fifth season, but it was intended as the 11th chapter. Hulu seems to have corrected that odd airdate anomaly.)
"Lunar Eclipse" (Season 5, Episode 13)
It's all over. As the ratings declined and the stars clashed, ABC pulled the plug on Moonlighting, letting fans hum its theme song into history. The episode itself is pretty mediocre — too much time with Agnes and Herbert getting married — but it ends on a fantastic, very Moonlighting note, starting with supporting punch-line MacGillicuddy dying because he doesn't have anymore scenes in the show. After the wedding, David and Maddie return to find the sets being taken down as the show Kool-Aid Mans through the fourth wall for the final time, dismantling itself before our eyes.