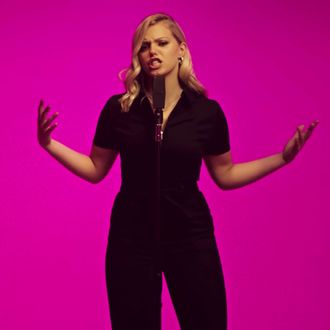 Someone's getting hurt.
Photo: Mean Girls The Musical
Get in loser, we're making a movie. Mean Girls the musical the movie is coming for your local multiplex, hitching a ride with Taylor Swift. Based on the 2018 Broadway musical, which is based on the 2004 movie, which is based on the 2002 book Queen Bees and Wannabees, by Rosalind Wiseman, the movie was first announced by Tina Fey back in 2020. Fey explained that she just wasn't ready to let go of these teens. "They are my Marvel Universe and I love them dearly," she said in a statement at the time. Fey wrote the original Mean Girls movie and the book for the Broadway show, so naturally, she's also writing the script for this feature. She'll also produce alongside SNL's Lorne Michaels. Jeff Richmond, Fey's husband and the creator of the 30 Rock theme, who composed the music on Broadway, is back with Nell Benjamin, also from Broadway, who will provide lyrics. Below, find everything you need to know about the upcoming film, because we may have already passed October 3, but there's always time for Mean Girls.
Do we have a trailer yet?
Well … sorta kinda. The trailer for the film is playing across the country before Taylor Swift's Eras Tour concert film, but it hasn't been released online yet. Still, they're getting the mileage they need out of it, since the Venn diagram between "girls and gays who make friendship bracelets" and "people who want to see the Mean Girls movie musical" is likely a circle. The trailer features a split second of "World Burn," a song from the musical, a whole lot of chaos, and just one of the many, many indelible lines from the original: "Get in, loser." The implication being, of course, that we are going shopping.
Who's in the cast?
Reneé Rapp (Sex Lives of College Girls) is the one watching the world burn as Regina George — and it's for the second time. She previously played the leader of the Plastics in the Broadway stage adaptation. Mare of Easttown's Angourie Rice will play Cady, who transfers from Africa and gets caught up in Regina's popular clique. Auli'i Cravalho (Moana) and Jaquel Spivey (A Strange Loop) will play Cady's artsy outsider friends Janis and Damien, respectively. Christopher Briney (The Summer I Turned Pretty) will continue to flex his love-interest chops as Aaron Samuels, and the plastics are filled out by Avantika Vandanapu as Karen Smith and Bebe Wood as Gretchen Weiners.
Over in the adult section, Busy Phillips got those vocals in check for Girls5eva, and she is ready to use them. The actress has been cast as Mrs. George, Regina's mom, according to Deadline. Meanwhile, another Fey staple, John Hamm, will be playing Coach Parr, and her former NBC Thursday-night compatriot Jenna Fisher will play Cady's mom.
Are there any familiar faces?
Of course there are, it's like the rules of feminism. Tina Fey is once again playing Ms. Norbury, she confirmed on the February 16 episode of Late Night With Seth Meyers. The mathlete coach also revealed that Tim Meadows, who played Principal Duvall, is set to reprise his role as the frustrated administrator who did not leave the South Side to police high-school cliques. "I do want to give you credit, you and Tim had parts in the original film that you couldn't age out of," Seth Meyers commented. (Job security is hard to find in this economy.) "Teachers work forever," Fey responded. "I want it to be like when Gilligan from Gilligan's Island would be at a trade show and you'd be like, 'Oh, he looks so old in his little hat.' That's my goal." Ashley Park, who originated the role of Gretchen on Broadway, also appears in the trailer, though her role has not yet been announced.
One thing that is not totally fetch is that the original Plastics — Lindsay Lohan, Rachel McAdams, Amanda Seyfried and Lacey Chabert — were all reportedly all interested in returning for the movie musical, according to Page Six, but found the money offered them "disrespectful." Allegedly, Rachel McAdams was offered a bigger role than the other three girlies (maybe as her own mother, as originated by Amy Poehler?). A source said in February that negotiations had "stalled."
When can I see it?
Instead of releasing on Paramount+ as originally planned, the movie musical is now headed to theaters with a scheduled release on January 12, 2024. And we think our father, the inventor of toaster strudel, would actually be super-pleased to hear us say that.
This post has been updated throughout.