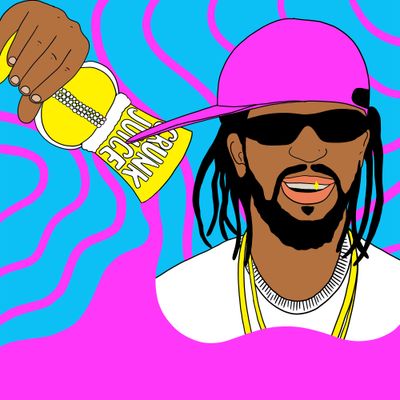 Illustration: Iris Gottlieb
Twenty years ago, the dominant (read: mainstream) music scenes contained, among many things, sonic extremes: On one side of the spectrum, you had commercial nü metal, a.k.a. the Linkin Parks and the Evanescences of the world. But on the other, you got the whole globalism-influenced pop music trend, like Beyoncé's collaborations with Sean Paul, or Santana linking up with Michelle Branch(?).
Sandwiched between "Bring Me to Life" and "Baby Boy" on 2003's Billboard Year End Hot 100, though, is "Get Low" by Lil Jon & the East Side Boyz — a song that has come to be representative of Atlanta's subculture of crunk.
We all know crunk, and likely have a personal experience tethered to the genre — it's a sound represented through club directives, repeating synthesizer melodies, and electronic instrumentation, designed to be played over booming club speakers. Dancing comes first, fidelity is secondary. "Get Low" is the perfect example of the whole Thing. Through Lil Jon, and, of course, his predecessors like Memphis' Three 6 Mafia, crunk has become incredibly popular and influential, expanding outside of the South to impact everyone from Tinashe to 3OH!3.
Even today, we hear those crunk hallmarks on the radio: Just look at "GEEKALEEK" by OhGeesy, which sampled Petey Pablo's "Freek-A-Leek" — produced by Lil Jon — and J Balvin's "Dientes," which features Usher and DJ Khaled, giving Usher's "Yeah!" a reggaeton twist.
This episode of Switched on Pop, we take a closer look at crunk: where it came from, where it went, and the man at the center of it all, Lil Jon.