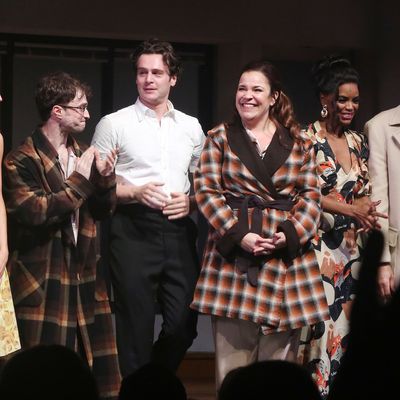 Katie Rose Clarke, Daniel Radcliffe, Jonathan Groff, Lindsay Mendez, Krystal Joy Brown, and Reg Rogers during the opening-night curtain call for Stephen Sondheim's
Merrily We Roll Along
on October 8, 2023.
Photo: Bruce Glikas/WireImage
This post is the latest edition of Vulture's Stage Whisperer newsletter, recapping weekly theater news from Broadway, Off Broadway, and Off–Off Broadway. Subscribe below to get it delivered directly to your inbox. 
The big news this week is that Merrily We Roll Along is back open on Broadway, and this time around, it's a hit. Congratulations are due: to director Maria Friedman, whom I saw chatting with Ben Brantley at the end of a press preview as he was raving about some of the Broadway version's new and improved set pieces (specifically, the giant poster for Frank and Charley's show within a show, Musical Husbands). To Ambassador Theatre Group, as it's getting away with charging an arm, a leg, and maybe another limb of your choosing for tickets to the Hudson Theatre (once ATG finishes merging with Jujamcyn, they can do this everywhere!). And to my 92-year-old grandfather, who insists he's the only person who thought Merrily was good during its initial run in 1981. If he and the other people who hold that opinion had gotten together and bought tickets back then, maybe that production would still be running.
Here at Stage Whisperer, what has our attention is the kooky timing of Merrily's actual opening. On Sunday night, the show held a "red-carpet celebration," where they did all the things you'd expect a show to do as it prepared to open, including hosting celebrity guests and honoring Friedman at the end of the performance. Then, they asked that reviews be held until Tuesday at 9 a.m. In Merrily's case, perhaps they already knew the show could coast for a bit on the celebrity halo effect and the notices they got Off Broadway and didn't want to worry about any reviewers changing their minds — or they wanted another bump of attention two days later, once the holiday weekend was over (and then the day after that, when those reviews ran in print).
But that devious not-actual-opening Broadway celebration performance is a fun little trick people keep pulling. Over the summer, Back to the Future hosted a gala in honor of Steven Spielberg before opening, which drew attention away from reviews and, I heard, was also a way to make big-name talent comfortable coming to support a Universal Pictures property in the middle of a screen-acting and writing strike with the excuse that the event was more about a specific guy. Back in the day, Pretty Woman got Julia Roberts to stop by with a similar trick, a performance dedicated to Garry Marshall. Conversely, this spring, The Sign in Sidney Brustein's Window opened and then had a gala performance, though that was more about squeezing it in before the Tonys deadline. The moral of the story is people have figured out that, while you can only be reviewed once, you can have parties whenever. This is actually a gala-celebration issue of Stage Whisperer. Where is your bow tie? —Jackson McHenry
This Week's Openings
Opening: October 12, 2023 | James Earl Jones Theatre
First Preview: October 13, 2023 | American Airlines Theatre
Visit our theater calendar for a complete list of shows.
Here Lies Love's Sexy Conundrum
Last week's grosses are out. We gathered writers Rebecca Alter and Jason P. Frank, critic Jackson McHenry, and social-media editor Zach Schiffman to discuss.
Rebecca Alter: Wow, Merrily is the only one that made less money than the week prior.
Jackson McHenry: Ironically, that is probably because they had to do a bunch of comped tickets for the press previews and opening.
Zach Schiffman: I wonder how much longer A Beautiful Noise has. Will Swenson isn't a ticket draw, but I know he's leaving soon.
Jason P. Frank: Looking over the grosses for The Shark Is Broken, it seems like a classic case of "should have gone Off Broadway." I'm constantly reminded of Howard Ashman choosing not to transfer Little Shop of Horrors to Broadway from Off Broadway in the '80s because, even though it was a hit, it was fine where it was. I think this show would have done well enough Off Broadway and still have enough licensing pull due to the association with Jaws, that going for a smaller house rather than attempting to make a small show into a ginormous Broadway hit would have been a better choice. Playing to 58 percent capacity speaks for itself, I suppose.
Jackson: To be fair to The Shark Is Broken, it can't be that expensive to run with that minimal set and not-big-name stars, and if the Golden Theatre was open for a while, no harm in having the show hang out there.
Zach: Yeah, I wonder where a show like that could go, though. It feels like something that wouldn't be programmed into a season, and there are so few houses for a show like that. Like, I don't think Alex Brightman would do a show at Theatre Row? Also, Here Lies Love looks so sad and having Apl.de.Ap DJ is … even sadder.
Jackson: You've gotta respect Here Lies Love's producers trying to pull out every stop to get people in there, I guess — they're also doing some sort of rewards program now? Credit-card points come to Broadway! (Nobody steal this concept from me; I'm about to make so much money when I pitch it to Chase Bank.)
Rebecca: Clearly they're doing a bad job marketing it, because if anyone is the target audience for a Here Lies Love punch card, it's me, and I hadn't heard of this.
Zach: I am surprised Here Lies Love doesn't have Conrad Ricamora doing more publicity.
Jackson: Zach, I'm pretty sure he made a TikTok to promote the show.
Jason: Even if he's not famous, he's very, very hot in the role, which could really draw some crowds.
Jackson: I think it's tough to know which angle to use when selling Here Lies Love (it's a dance party! It's a David Byrne piece! It's political history! etc.), but sex appeal is maybe underemphasized.
Zach: I do think Here Lies Love is a show that with the right late-night performance could hang on. Like doing "Please Don't" really well on Seth Meyers will certainly get my aunt asking me if I've seen the show.
Jackson: They just had David Byrne on Seth Meyers talking about it — though that is the kind of thing a performance would help seal the deal.
Jason: We need Rosie O'Donnell back on the air to champion Broadway with the force that only a Broadway-loving lesbian can create.
Jackson: Really, the industry is just clinging on until Kelly Clarkson decamps from L.A. to NYC.
Zach: Kelly needs to do Kellyoke of "Why Don't You Love Me?"
Jackson: But only after she covers "Heart of Stone" from Six! Kelly, let us submit some requests in advance.
Zach: We can even tip to cut the line like it's Marie's Crisis.
Rebecca: Kellyoke Broadway Week would change the world.
Jason: Can't wait for her to cover "Apology to a Cow" from Bat Boy.
Here's to Them. Who's Like Them? Damn Few.
Here's a thing about the so-called classics: We may have all sorts of feelings, valid ones, about how often they come back around, what was wrong with them in the first place, what's wrong with them now, and what may or may not be worthier of a current airing; but the fact that they come back around forces us to pause and do that most imperative and unsettling of things — reconsider. To look at something again really means looking at ourselves again: approaching the same mirror ready to see a different reflection, perhaps even ready to admit that we no longer agree with our past selves. In the Russian director Anatoly Efros's rehearsal diaries, he returns to Three Sisters several times over the course of many years. One later entry begins, "Perhaps the beginning of Three Sisters should not be exactly as I thought before." Another, still later: "Obviously, our production of Three Sisters was not clear enough." The old plays that keep coming back make us confront the possibility — frightening, vital — of change.
Four years ago, in a different world, I reviewed a production of Stephen Sondheim and George Furth's Merrily We Roll Along, and in large part I blamed the book (by Furth, based on the 1934 play by George S. Kaufman and Moss Hart) for the show's limited effectiveness. I was hardly the first: When Merrily premiered in 1981, my colleague Frank Rich, then writing for the New York Times, famously called it "a shambles," holding Furth's book responsible for its "major dramatic failure," "anticlimactic plot exposition," and "unearned nastiness." A rewrite came along later, and the show has been back through New York a few times, but never at Broadway scale.
Now a starry new version of this hot-take magnet of a musical rolls along, and I find myself facing the mirror, reconsidering. Perhaps Merrily is not exactly as I thought before.
Behind the Curtain …
A segment in which Stage Whisperer relays the latest gossip. 
We've heard talk a former paper-company regional manager is very interested in proving he has stage dramatic chops, if producers say dа to having him manage a country estate this spring.
Whisper of the Week
"It's been years and we still find confetti everywhere every day."
—A person handling renovations at the Palace Theatre, referring to 2017's festive SpongeBob SquarePants: The Broadway Musical.
More Links
➽ Shucked will tour North America in 2024. 
➽ Jordan Fisher will join Hadestown as the new Orpheus. 
➽ The Encores! production of Titanic, running in June 2024, will feature Tony winner Bonnie Milligan as Alice Beane.
➽ Halsey and Catherine O'Hara will alternate as Sally in a production of The Nightmare Before Christmas at the Hollywood Bowl.
And the Award for "She Lives!" Goes to …
Spotted by our very own Whisperette, Devon Ivie.