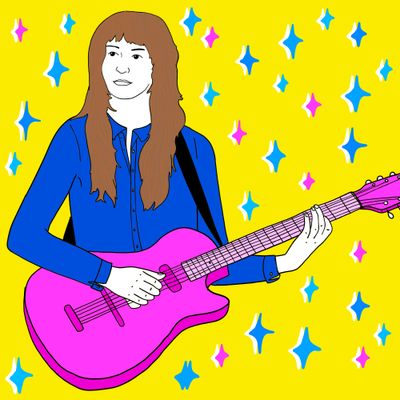 Illustration: Iris Gottlieb
In Switched on Pop's series about Atlanta, we've covered the origins of crunk music and the career of Metro Boomin. In our third and final entry in our Atlanta series, we're staying there with a look at singer-songwriter Faye Webster. Her music defies genre and convention: Over the course of four albums, her sound has come to contain both pedal steel and indie rock as well as soft vocals and R&B sensibilities, all the while embodying the city of Atlanta.
On this episode of Switched on Pop, we take a look at Webster's work and how she builds her anomalous sound on her two singles from her upcoming project: "Lifetime" and "But Not Kiss," which Vulture named one of the best songs of 2023. Switched on Pop co-host Charlie Harding spoke to Webster from her Atlanta home. Listen to the full episode below, or read on for an excerpt of their conversation. Subscribe to Switched on Pop wherever you get your podcasts.
Let's talk about "But Not Kiss." This song starts like a quiet nap, and then you're suddenly shaken rudely awake. Can you tell me about this moment going from this very soft to very loud intensity?
For the longest time, the song existed as like a six-second memo. It existed as just "I wanna sleep in your arms but not kiss." That was my entire memo for months. And I was sending it to the band. Like, This is my favorite one on the record already. And they're like, It's not even done. I feel like it's set in this really nice pocket of a love song, but an anti-romantic song, almost like it was all these things I wanted to say in a really nice, caring, loving way, but like things that were like kind of hurting me.
How did you go from this six-second voice memo to orchestrating it and bringing that to life?
It took a minute to, like, fully become a full song. I remember them waiting for me in the studio. They were waiting for me to write a chorus and I was in my little bungalow trying to write and I just couldn't think of anything. And I felt like everyone was waiting on me. And I was like, Okay, I'm just gonna say "yeah." That's all I can think of right now. And I brought it, I walked back to the studio and played this weird chorus I made, and everybody was like, Yeah, that's it.
"Lifetime" has this elegant simplicity; it's just eight lines and a refrain, "in a lifetime." But you seem to stretch out time into a literal lifetime. How did you achieve this feeling? 
I'm really good at writing songs with two chords. It didn't happen until we were recording it where it was over, and I was like, Wait, I don't want it to be over yet. And I was like, Is there a way that we can just repeat this for a while, and I'm so bad at music theory, but my keys player's really good at it. So I was like, Is there some alternating chords we can play that just like keep this on a loop but make it at the same time feel like it's changing. And it was like then when we were recording it that that version came about.
It's also moving along at almost this sort of snail's pace. What does playing at this tempo do physically and psychologically to you and to the song?
I've always been a rhythm guitarist. I feel like that's my lane, like my comfort zone. When I'm playing live, I feel like I'm always cushioning myself in that corner. I feel like even when we play live, we end up playing my songs so much slower than they actually are. And I don't know if it's me, if I'm the one that's slowing everybody down, but I kind of just like being in the moment; we're not in a rush.
I've read that on your past records, you'll record your vocals at home into GarageBand in your kitchen despite recording the whole band in the studio. Why this method and and did you do it again on these latest songs?
Yeah, I did. I just wanna be home and I wanna be around my stuff. That's just all I know how to do, so I just keep doing it. I am really comfortable at home when I sing, and I, and I hope and feel like that kind of goes through in my vocals when you hear it.
So there you have a lot of control over the outcome, yet, on the other hand, when you enter the studio with your band, you really don't rehearse anything in advance. How come?
I think I'm just really big on first impressions. Even my demos, when I bring them to the studio, I don't let the band hear it beforehand because I don't want it to alter their way of thinking. I just like doing it in the moment because I feel like that's the best representation we could get of a song like it's supposed to sound because of first instinct.
You named your third album Atlanta Millionaires Club after your home city. You're based in Atlanta. Atlanta is particularly known for the dominance of hip-hop. How does it feel to be sort of maybe against the grain of the, of the predominant music scene in your city?
I feel like everyone in Atlanta is a creative, and I feel like that's why I like the city so much. Like, every single friend of mine does something in some kind of form. I know a lot of musicians, especially, yeah, being a part of Awful Records for so long. That kind of was like the beauty of it, a group of collaborative friends that just make music and want to make cool stuff. And for that reason I always felt like I belonged.