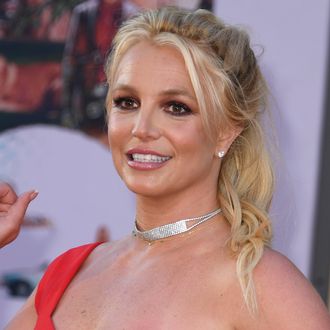 Britney Spears.
Photo: AFP via Getty Images/AFP via Getty Images
Michelle Williams will speak for Britney Spears (with her permission, of course). Per People, Spears will record a short intro for the audiobook of her long-awaited memoir, but that's it. "This book has been a labor of love and all the emotions that come with it," Spears said in a statement. "Reliving everything has been exciting, heart-wrenching, and emotional, to say the least. For those reasons, I will only be reading a small part of my audiobook." Instead, she revealed that "the amazing" Williams will narrate the rest of the story. "I stand with Britney," Williams said.
Spears previously confirmed in an Instagram video, the "Womanizer" singer confirmed that The Woman in Me is still scheduled to release on October 24, as People previously reported. "I'm doing the finish touches on it right now, and I hope you guys like it," Spears said. "It's coming soon!" The tell-all book's upcoming arrival in bookstores and on Amazon comes after a bit of a delay. Publisher Gallery Books, an imprint of Simon & Schuster, first announced the pop diva's memoir last year in the aftermath of 2021's explosive re-contextualization of Spears's experience in the public eye and the end of her conservatorship. At the time, Variety reported that the publisher nabbed rights to the memoir for as much as $15 million.
The book follows Spears's family relationship, first tastes of fame, and life under the celebrity microscope. "Britney's compelling testimony in open court shook the world, changed laws, and showed her inspiring strength and bravery," Jennifer Bergstrom, Gallery Books senior vice-president and publisher, told People. "I have no doubt her memoir will have a similar impact — and will be the publishing event of the year. We couldn't be more proud to help her share her story at last." Her memoir "illuminates the enduring power of music and love — and the importance of a woman telling her own story, on her own terms," according to a press release, which also called the book "a brave and astonishingly moving story about freedom, fame, motherhood, survival, faith, and hope."
This post has been updated throughout.