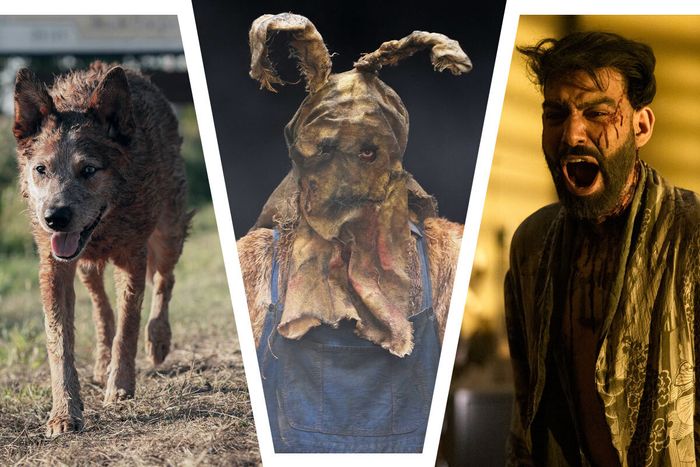 Pet Sematary: Bloodlines, The Fall of the House of Usher, John Carpenter's Suburban Screams.
Photo-Illustration: Vulture; Photos:
This post will be updated over the course of the month. *New additions are indicated with an asterisk.
Who doesn't love spooky season? The leaves are falling, the air is cooling, pumpkin spice is literally everywhere, and the streamers are bringing out new goodies to give all the loyal horror trick-or-treaters who subscribe. This year sees new movies and TV shows across all the streamers, including things people have never seen before from legends like John Carpenter and Mike Flanagan, along with a blend of familiar titles and brand-new scares. We've assembled ten you definitely want to put on your calendar, plus another ten for those who really want to dig into the best month of the year for genre fans.
This Week's Critic's Pick
The Fall of the House of Usher
October 12, Netflix
Mike Flanagan, the mastermind behind The Haunting of Hill House and Midnight Mass, turns his gaze to the work of the king of the short story, Edgar Allan Poe. Flanagan's latest Netflix series (perhaps the last, with his new Prime deal) is named for one of Poe's best short stories, the saga of the decline of a wealthy family. But the season promises to use that as a launchpad for other Poe classics like "The Pit and the Pendulum," "The Raven," and "The Cask of Amontillado." Once again, Flanagan has assembled some of his most reliable collaborators, including Bruce Greenwood, Kate Siegel, Rahul Kohli, and Henry Thomas. Joining the troupe this time are Mary McDonnell and the legendary Mark Hamill as Arthur Pym, a name familiar to the diehard Poe Heads out there. Even if it turns out to be the rare Flanagan misfire, this high-budget show should bring more eyes to the work of one of the best writers of all time.
The Best New Horror Streaming in October
*Bargain
October 5, Paramount+
Could this be the next Squid Game? It sure seems like it as buzz has really been building around the show for months, largely because of another truly insane, unmissable premise. This Korean import opens with a creepy dude named Hyung-soo (Jin Seon-kyu) coming to a remote hotel for sex with a high-school student, but he ends up the victim of an organ-harvesting operation that features people bidding on his kidneys. And that's just the beginning. Things get even crazier at the hotel in a way that sounds reminiscent of single-setting action like The Raid or twisted kidnapping horrors like Oldboy. Yeah, the good stuff. And critics seem to really be digging this one, a show that could end up being the most lasting hit of spooky season 2023.
Pet Sematary: Bloodlines
October 6, Paramount+
This franchise just won't die. (Sorry.) The 2019 reboot of Pet Sematary might have been generally loathed, but it did well enough that the producers green-lit a prequel to dig into the mythology of the land on which Jud Crandall learns that sometimes staying dead is better. This flick will now get a relatively quiet streaming one after its Fantastic Fest premiere in September where, well, the reviews weren't pretty. But who cares, right? We need a launch to spooky season, and why shouldn't it star the unexpected pairing of David Duchovny and Pam Grier?! The film takes place in 1969 and unpacks the secrets of the cemetery that somehow brings loved things back to life. Sorta.
Totally Killer
October 6, Prime Video
If it's October, there's gotta be a Blumhouse TV production, and the big one this year is from sitcom creator Nahnatchka Khan, the writer behind Fresh Off the Boat, Young Rock, and Netflix's hit comedy Always Be My Maybe. This Blumhouse joint looks as if it has the horror-comedy vibe of films like Happy Death Day and Freaky as it tells the tale of a teenager named Jamie (Kiernan Shipka) whose parents are murdered by the "Sweet Sixteen Killer" on Halloween. She somehow travels back in time to 1987, where she's given a chance to team up with the teen version of her mom (Olivia Holt) to stop the killer long before they can ruin Jamie's life. This one also dropped at Fantastic Fest in late September, showing that Prime and Blumhouse think they have a genre hit on their hands.
The Mill
October 9, Hulu
This one sounds fascinatingly twisted: The multitalented Lil Rel Howery (Get Out, Free Guy, and dozens of other things, dude does like six movies a year) stars as a guy who just wakes up one day to find himself alone in an open-air prison cell. All that's with him is an old gristmill. He has to work the mill to stay alive and escape to see the birth of his child. Is it an allegory for the drudgery and repetition of classism? Will there be commentary on racial exploitation? Who knows where this story goes, but it does contain one of those setups that seem too enticing to miss. Bonus point: It's directed by Sean King O'Grady, who already made a killer single-setting thriller in We Need to Do Something, also on Hulu.
Goosebumps
October 13, Disney+/Hulu
Children of the '90s will remember being lovingly scarred by the Goosebumps books by R.L. Stine and the Fox Kids TV series of the same name. The books were resurrected for a halfway decent 2015 movie (and a less decent 2018 sequel), but they have returned in the form everyone loves for them with a new series launching simultaneously on Hulu and Disney+. Rob Letterman, who helmed the first film, directs the premiere episode, which drops on October 13 along with four more episodes (the season's final five launch weekly thereafter). It's mostly a cast of newcomers in this tale of five teenagers attempting to keep supernatural forces at bay, but familiar faces include Justin Long and the infamous Slappy the Dummy, arguably the most popular villain from Stine's universe.
John Carpenter's Suburban Screams
October 13, Peacock
Big news, horror fans: In mid-October, John Carpenter, arguably the best horror director of all time, is presenting viewers with his first directing effort since 2010's The Ward. The man behind Halloween and The Thing brings his perverse vision to an odd Peacock project, a series that's half reality and half horror. The pitch is that each episode presents true tales of horror, told by the people who lived them; these are then re-created by filmmakers, including Carpenter himself. Another cool thing? Carpenter is composing the score for the series. Let's hope it reignites his passion for filmmaking and we get another feature soon. It's long overdue.
Living for the Dead
October 18, Hulu
What the hell is this? One of the oddest new series in a long time feels like a Queer Eye for the Straight Guy riff on the ghost-hunting show — a pitch that gets even nuttier when you learn that Kristen Stewart is narrating! Huh? Stick with us: Executive-produced by the great actress and produced by the team behind Queer Eye, Living for the Dead features five queer ghost hunters traveling to some of the most haunted places in the U.S. and, well, doing stuff there. The idea is that Stewart herself wants to see these haunted locales but she's too scared to do it alone, so she brings a quintet of oversize personalities to help.
*30 Coins: Season 2
October 23, Max
Anyone who saw the first season of Álex de la Iglesia's twisted show (launched in Europe in 2020 but not imported to the States until 2021) is probably pumped for more devilish action from the Spanish horror director. This new season promises increased insanity with the addition of Paul Giamatti of all people. Set in a mountain town in Spain called Pedraza, the second season will pick up on the action of the first, which left most of the residents in a psychiatric hospital. Giamatti's role is unclear (Max describes him as a "mysterious new enemy"), but it seems likely he's around to make things even worse. With more Lovecraft influences than you usually see in a TV series, this one is sure to be one of the weirder options for your Halloween viewing pleasure.
The Enfield Poltergeist
October 27, Apple TV+
If you're reading a Halloween horror guide, you've probably seen The Conjuring 2. Well, this four-part docuseries recounts the events that terrorized a London family in the 1970s in the haunting that inspired that film. Reportedly using over 250 hours of audio, the show unpacks what happened at Enfield to Janet and Margaret Hodgson, with most of the recordings captured by paranormal investigator Maurice Grosse. A fun trick might be to watch this docuseries and then transition to the Conjuring version of the same spooky story — then try to get some sleep that night.
Five Nights at Freddy's
October 27, Peacock
If you don't know the story of Freddy Fazbear's Pizza, ask your kids. Starting life as a PC game in 2014, this franchise has already produced nine video games mostly about a lonely nighttime security guard who discovers that the Chuck E. Cheese–like facility where he works is deadly dangerous. A movie was inevitable, and this one by Emma Tammi will launch in theaters and on Peacock at the same time. Starring Josh Hutcherson and Matthew Lillard, the film sees the employee learn that four animatronic mascots at Freddy's will kill anyone who's there after midnight. Playing to the TikTok generation that loves these games, this could be a sizable hit for the streaming service. At least until the next Freddy's game comes along.
When Evil Lurks
October 27, Shudder
Argentine filmmaker Demián Rugna has directed one of the creepiest flicks of 2023, and it lands on the best streaming service for horror fans just before their favorite holiday. It's gonna mess you up. Inspired by the work of Lucio Fulci, this is the story of brothers who discover a demonic presence in a farmhouse near their village, and, well, the "rotten" gets loose. A brutal gorefest that doesn't care how you feel about typically safe things like dogs and children, When Evil Lurks is vicious in ways modern horror movies are rarely allowed to be. It already has a growing fan base from screenings at TIFF and Fantastic Fest, and it hits theaters on October 6. It's really gonna blow up when it lands on Shudder and scares people into staying indoors on Halloween.
More Horror!
Appendage (Hulu, October 2) — Hadley Robinson plays a young designer who discovers a growth on her body that may be a twin she never fully absorbed in the womb. Nasty.
Chucky (Syfy/Peacock, October 4) — The third season of the acclaimed Syfy show about the killer doll has been chopped into two parts. The second will drop in 2024.
V/H/S/85 (Shudder, October 6) — The fan-favorite anthology series includes segments directed by David Bruckner, Gigi Saul Guerrero, Natasha Kermani, Mike P. Nelson, and Scott Derrickson (The Black Phone).
The Last Drive-In With Joe Bob Briggs: Halloween (Shudder, October 10) – The legendary drive-in host has already aired a special about John Carpenter's masterpiece but he's returning to Haddonfield for the film's 45th anniversary.
The Conference (Netflix, October 13) — "Swedish Slasher Comedy" isn't a genre you see every day, and this foreign oddity could be a breakout smash for a streaming service that has a habit of turning international productions into hits.
Creepshow (Shudder, October 13) — It's hard to believe this anthology series is already in its fourth season, one that promises more anthology gems.
The Puppetman (Shudder, October 13) — A convicted killer on death row claims something was controlling him when he committed his murders. His daughter starts to think he may be right.
Wolf Like Me (Peacock, October 19) — The second season of the show in which Isla Fisher plays a werewolf and Josh Gad plays her startled boyfriend.
Night of the Hunted (Shudder, October 20) — Alexandre Aja (High Tension) produced this import about a woman who ends up the target of a sniper after stopping at a remote gas station.
American Horror Stories (Hulu, October 26) — The third season of this spin-off of American Horror Story includes four more stand-alone episodes. At least one will probably be good.
Sister Death (Netflix, October 27) — Nun horror! If you haven't seen 2017's Veronica, you should correct that oversight and then check out this prequel from the same director.
Hell House LLC Origins: The Carmichael Manor (Shudder, October 30) — A fourth film in the franchise of found-footage films about a haunted house that goes very wrong.