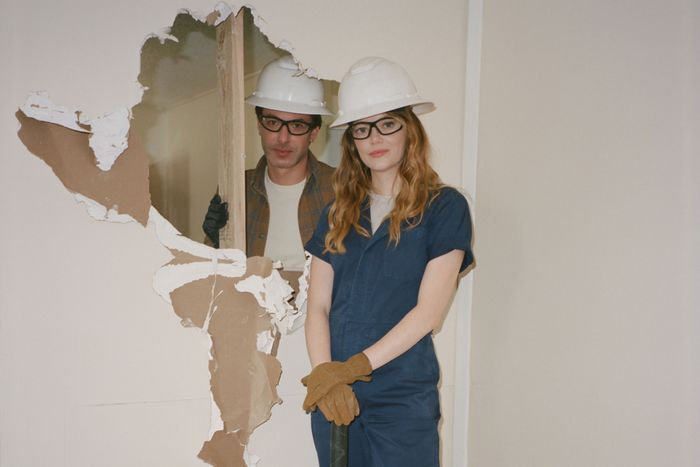 Nathan Fielder and Emma Stone in
The Curse.
Photo: Showtime
At the New York Film Festival last night, A24 and Showtime premiered an almost unbelievably A24-meets-Showtime project: The Curse, the unsettling hour-long dark comedy series written by, directed by, and starring Nathan Fielder opposite executive producer Emma Stone and co-creator Benny Safdie. The series, which was shot last year and has since been shrouded in the sort of lighthearted yet unnerving intrigue that Nathan Fielder often courts, stars Fielder and Stone as a newly married pair of house-flippers in the Santa Fe–adjacent town of Española who are attempting to "ethically gentrify" their community while filming a pilot for HGTV and also trying to get pregnant. As Stone put it in the trailer, released the same day as the premiere, "What could go wrong?"
The first three episodes of The Curse screened last night, which marked the first time the festival has ever premiered a TV show. As the festival's artistic director, Dennis Lim, explained, Safdie approached him back in May with a cut of the series, and though Lim told him they didn't have a spot in the festival for TV shows, Safdie encouraged him to watch it anyway. "He sent me three episodes. I watched them right away, and I said, 'I need to see more.' By the time I got to episode five or six, I called Benny and said, 'We need to figure out how to make this work,'" said Lim. "Everything about The Curse screams cinema to me … It's as brilliant, wild, perverse, embarrassing, uncomfortable, and anxiety-inducing as you would expect." Below we answer your most burning questions about The Curse in advance of its November 10 premiere, including: What the hell is this show? Who's cursed? And what is going on with Benny Safdie's wig?
Is The Curse a comedy? Is it horror?
Fielder himself described The Curse thusly earlier this year: "It started out as a 30-minute comedy and became an hour-long comedy-drama." I'd describe the first episodes as more of an excruciating anxiety-comedy — though there are a few true laugh-out moments, much of the comedy comes from painful, humiliating recognition, the sort of trenchant sociological skewering that causes you to grab your cheeks in abject dread. It's got a lot on its mind: exploitation, gentrification, poorly obfuscated racism and classism, the failure of the American project, the dehumanizing qualities of reality television and social media, the extreme misfiring of white guilt, micropenises. The camerawork and score — lots of spooky, dissonant clanging and surveillance-camera shots involving slow zooms from afar, It Follows–style — suggest that the series could, at some point, turn full-tilt into horror, but it doesn't (at least in the first three episodes), meaning you never quite get the catharsis you're searching so desperately for. It's a perfect combination of the sensibilities of the Safdies and Fielder: unbelievably uncomfortable, bleakly funny, quietly damning, and, yes, cinematic. If you like being edged forever, this is your show.
Who do Fielder and Stone play?
Fielder and Stone play Asher and Whitney Siegel, a Chip-and-Joanna Gaines-doppelganger couple who have been married for a year and are trying to get a house-flipping TV show called Flipanthropy picked up by HGTV. Asher is pitiful and awkward and deeply petty, the kind of socially oblivious man who regularly puts his foot in his mouth and spends lots of time on the phone with customer service trying to get small refunds. He's also got a microdick, which is revealed in a shamelessly funny set piece involving pee and tomatoes, and the requisite accompanying inferiority complex. He is gravely unlikeable, which is, of course, not ideal for a wannabe TV star, and which members of a focus group pick up on during a screening of Flipanthrophy's pilot, questioning why Whitney is even with him in the first place and wondering why his "character" is neither "funny or hot."
Whitney is outwardly charming, beautiful, and gregarious, but also fatally desperate to be liked. She's instantly recognizable as a woman who has been lobotomized by Instagram — she's obsessed with her follower count, is always camera-ready, and speaks like she's only ever read cutesy infographics about the Black Lives Matter movement made by a white woman who's never met a Black person in her life. She's always visibly worried about saying the wrong thing or offending someone but for purely self-serving and narcissistic reasons. She's also the designer of the eco-friendly "passive houses" that she and Asher "flip" — expensive, carbon-neutral, mirrored-exterior homes bought at foreclosure auctions that nobody local can afford and that murder birds by the dozens — and the daughter of local "slumlords" (played with relish by Constance Shulman and Corbin Bernsen). As such, she's very self-conscious about her image and reputation, trying desperately to ingratiate herself into the local Indigenous community and prove that she's a "good person," an oft-repeated refrain.
Both actors are really Going For It, unafraid to appear truly awful onscreen — Fielder has never been more convincing, and Stone is chilling and pitch-perfect, especially during a scene where she asks her husband to instantly recreate an organic, intimate moment so she can post it on Instagram. Her eyes glaze over, and her smile sharpens menacingly as she launches into that uncanny "Hey guys!" influencer mode.
Who's Benny?
Benny plays Dougie Schechter, an old friend of Asher's and a producer who comes to town to shoot the Siegels's pilot. Dougie is sort of a Southwestern Ed Hardy, with long, scraggly hair, thick silver rings on each finger, leather bracelets, denim torn "artfully" at the knees, and some very deep, very dark demons. Initially, he appears to be nothing more than a classically unscrupulous, morally bankrupt reality TV producer: In the show's first scene, he films Asher and Whitney as they offer a job at a local coffee shop (that they've opened temporarily to serve as a set for Flipanthropy) to a sweet, unemployed Española resident named Fernando (Christopher Calderon) whose mom is dying of cancer. When Fernando's mother doesn't have a visibly emotional response to this news, Dougie rubs a menthol stick under her eyes and pours water onto her face for the cameras. Later, it becomes clear that Dougie has a lot more roiling beneath his insanely dressed, soulless surface, including his own profound guilt.
Who's cursed?
In the first episode, Dougie instructs Asher to approach a young Black girl named Nala (Dahabo Ahmed) selling mini Sprites in a parking lot and give her money for a staged scene. Asher only has $100 on him, so when the cameras stop rolling, he asks for the money back and says he wants to go "get change." The girl side-eyes him: Is this loser fuckin' kidding? Her sister and father (Barkhad Abdi) approach, equally confused and annoyed. Asher continues to demand the $100 back, insisting he'll go grab a $20 for Nala, and she looks at him angrily: "I curse you!" she says. And things do, in fact, begin going awry for Asher and Whitney thereafter — but are they, as Whitney puts it, "making assumptions" about the girl's ability to pull off an actual curse because of her race and class, or is it actually more offensive not to take her at her word? While they ignorantly and myopically argue over the optics of it all, their lives start to fall apart.
What's going on with that freaky reflective house?
The Curse has a running visual leitmotif of grotesquely distorted reflections, including Emma Stone's as she stands in front of her own "passive house," the concept of which she's ripped off from another artist. So certainly nothing good.
How Nathan Fielder-y is it all, or in other words, will I feel so much secondhand humiliation and faint glimmers of self-recognition within that humiliation that I will want to crawl deep into myself, hiding in the recesses of my brain, leaving my physical form sitting empty on the couch as a sort of temporary husk while also laughing at its painfully uncomfortable truths about the human condition and the banal absurdity of being alive at this objectively terrible point in human history?
Yeah.
How do I watch it?
The Curse premieres November 10 on "Paramount+ with Showtime plan only," so if you have one of those and know what that means, great. Each episode will also screen early at Lincoln Center.